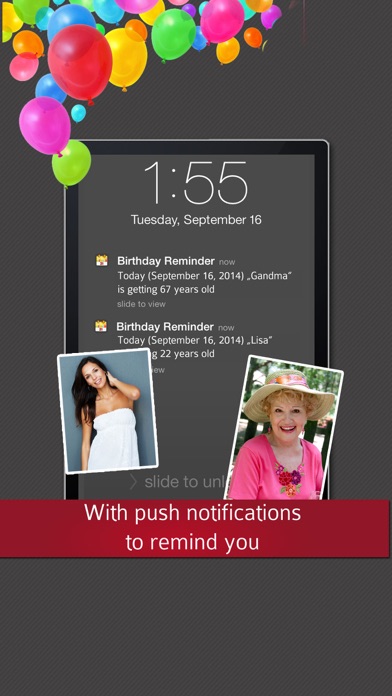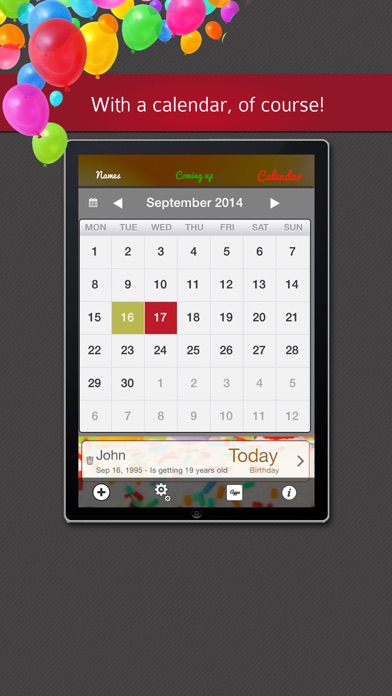 From now on you will never forget a birthday ever again:
This app reminds you of your friends' and family members' birthdays.

———————————————
THE FEATURES
———————————————

• The best birthday app:
The app shows you the remaining days to each birthday.

• Accurate to the second:
The timer counts down in years, months, weeks, days, minutes and even seconds.

• Push notifications:
Get a notification, so you'll never forget a birthday again.

• Sorting by your choice:
All birthdays can be sorted by name or in chronological order.

• Add your own photos to a birthday:
You can add as many photos as you want.

• Beautiful backgrounds:
Choose between beautiful wallpapers.

• Save as an image:
You can save your birthday count as an image.

• Share on social networks:
Share your illustrated birthdays on social networks like Facebook and Twitter.

• Easy navigation:
The app is easy to use, very customizable and works extremely well.

• Elegant user interface:
You'll definitely love it!