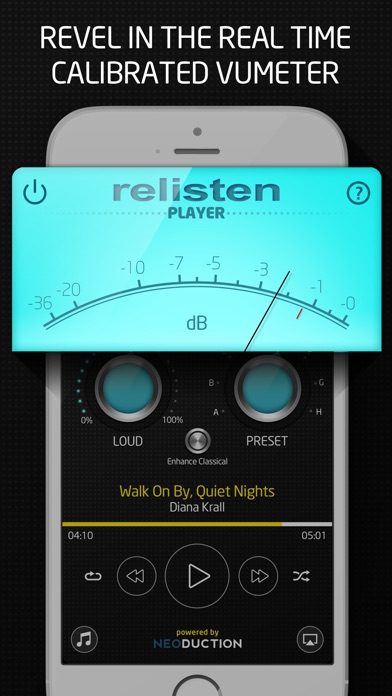 Relisten is a proven recovery algorithm and sound optimisation deployed in an elegant music player that will rework the way you listen to the music.

Relisten Player's sound objects classification system, along with its adaptation to the inertial conditions of the speaker, allows you to recover the initial state of the sound wave before the processes of mp3 compression, AD converters distortion and even poor sound takes. The result is a rich and dense sound without increasing mean volume of peaks but with the advent of large amounts of sound objects that previously went unnoticed in your ear.

Load your flac and opus libraries for high definition tracks (192KHz 24bit) through File Sharing feature or Dropbox. Keep in mind a DAC device is needed to play at such high resolution.

Find dedicated settings for specific devices such as Cozoy Aegis DAC.

Now You can improve your listening experience with Our custom enhancement algorithms by attaching Relisten Player to Your Spotify Premium account.

The luxury app that your High-End system is waiting for.

"I finally took the risk to buy the app and I am no less than astounded. I don´t have a clue how you did it, but the sound is on par with the best DAP´s out there."
Willy Vlyminck, Germany AppStore.

"Relisten is fantastic. The detail and separation are insane. I use it with an e12a and it is heaven. This is the best music app out there."
Dave Weinmann, US AppStore.

Optimised for iPhone 5 and higher.