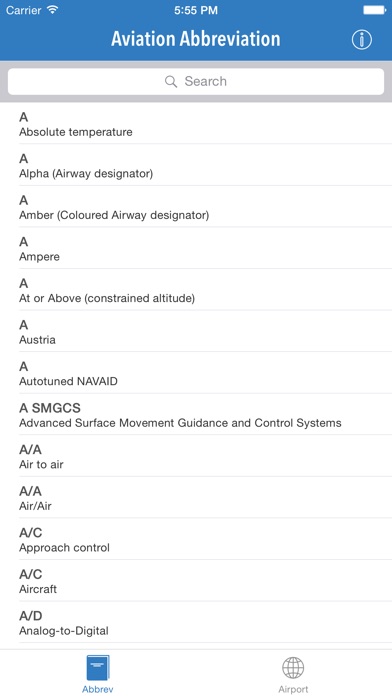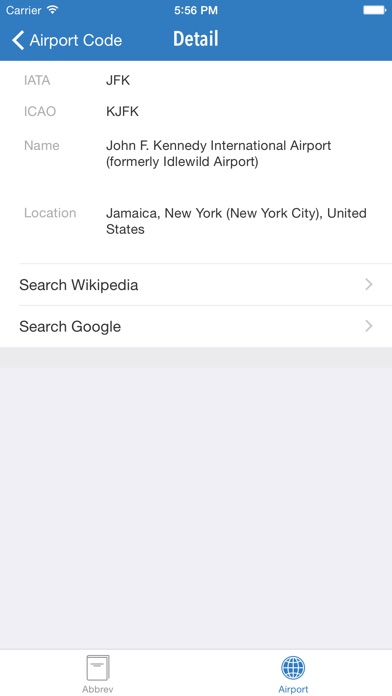 Very easy and quick aviation abbreviation search:

The Aviation Abbreviation is a very simple and quick aviation abbreviations search application. It will save you a lot of time .


Good for aviation industry:

If you are a pilot or working in airlines and aviation industry, you may found yourself facing loads of abbreviations everyday in Charts, NOTAM, NOTOC, TELEX, Weather report. It is hard to remember all of those. Looking for terms that abbreviations stand for from various references take you too much time. The Aviation Abbreviation is definitely suitable for you to safe your time and enhance your work.


Nearly complete aviation abbreviations you may look for:

Aviation Abbreviation contains over 8000 terms for very quick reference. More terms will come in the upcoming free update.


Most terms can be completely displayed within main screen. For some terms that are too long to display in main screen, you can simply touch at the term to see it in the detail screen.


It also provides additional airport and IFR list containing over 6000 codes.

Total 14000+ abbreviations and codes.