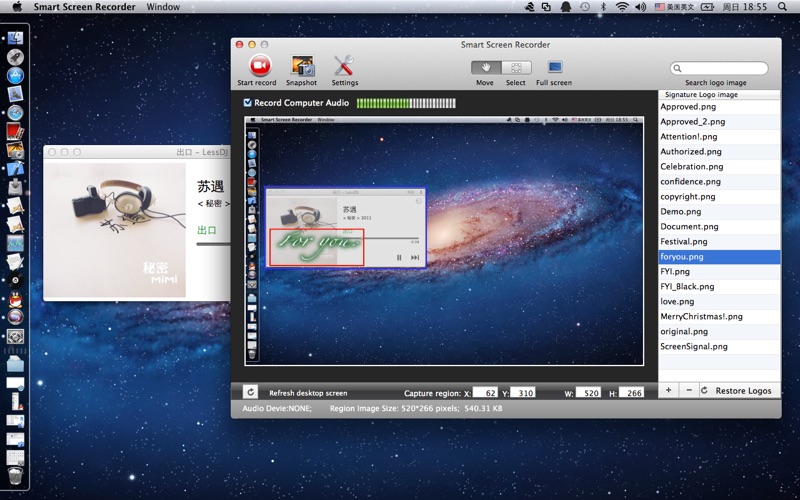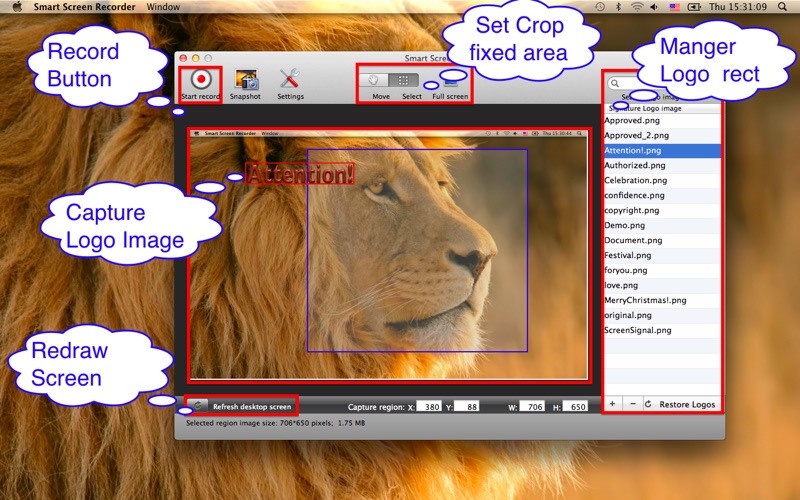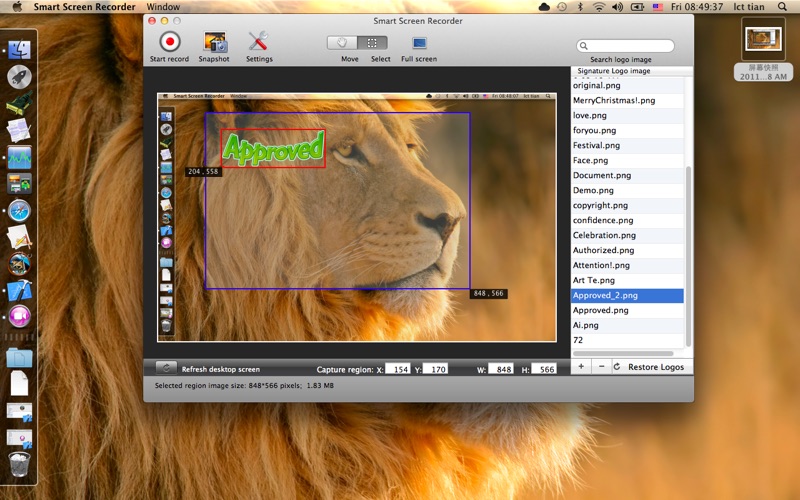 ★ Features ★
✓. Record a video of any rectangular portion of your screen; select any region in the main screen and the software will capture that region to be replayed by the viewer as a movie.

✓. Add your own logo or signature to any area of the captured screen.

✓. Capture and record audio using a computer's embedded microphone or other audio input device.

✓. Can Record Computer Audio .

As you use the feature "Record Computer Audio", you needs to install Audio Speed Driver, which is a free audio driver available at an external site.
The Audio Spider Driver is free audio driver, it simply accept system audio data, allowing any audio application to send and receive audio with no other support needed. Audio Spider Driver is free, and runs on Mac Intel computers.
to download it at http://yuchensoft.diandian.com/post/2012-06-09/40027351852
✓. Great for creating video tutorials.


The Smart Screen Recorder is a software toolkit that lets you easily capture your screen actions and workflow on your Mac and record as a movie. The Smart Screen Recorder allows you to select a specific region of your screen to be recorded allows you to add a logo anywhere in the recorded area you like.


The Smart Screen Recorder is the perfect tool to demo your Software, including your iPhone App (using an iPhone simulator), games, and desktop applications.


The Smart Screen Recorder provides all the elements needed to create professional-looking product demonstrations of software applications. The Smart Screen Recorder can capture game screens, iPhone simulators, PPTs, image slideshows, and anything else that appears on a monitor. 



After a recording is complete, the Smart Screen Recorder makes it easy to share with your friends, clients, and colleagues.


To enjoy all these great features just requires you to take one step: download it!

➠➠ ➠➠ Differences ➠ ➠➠ ➠➠➠➠➠➠ 

✓"Captures high-quality video and you can choose the section of the screen you want to record, which is cool. I also like the logo feature".

✓"The logo feature means that you can add your logo or signature into a captured video "

➠➠ ➠➠➠ ➠ ➠➠ ➠➠➠➠➠➠➠➠➠➠
➠➠ ➠➠ ➠➠ ➠➠ ➠➠

If you have any suggestion ,tell me(Arbor_tian@me.com) ,I will add your suggestion to update version. let us do it better.