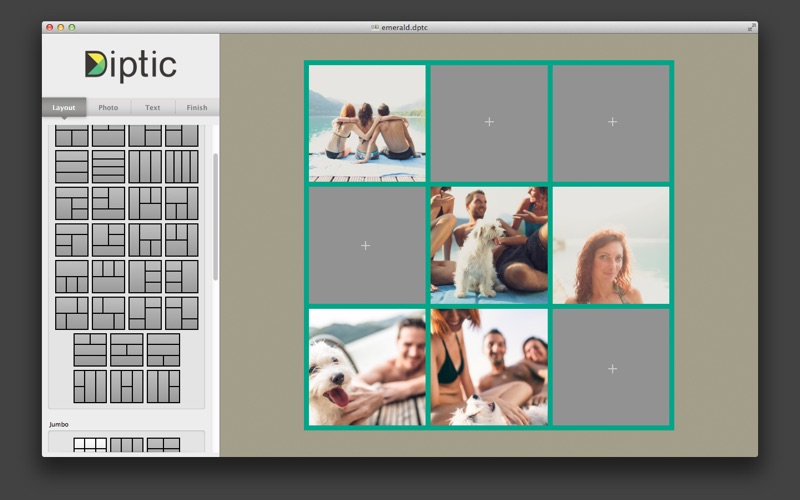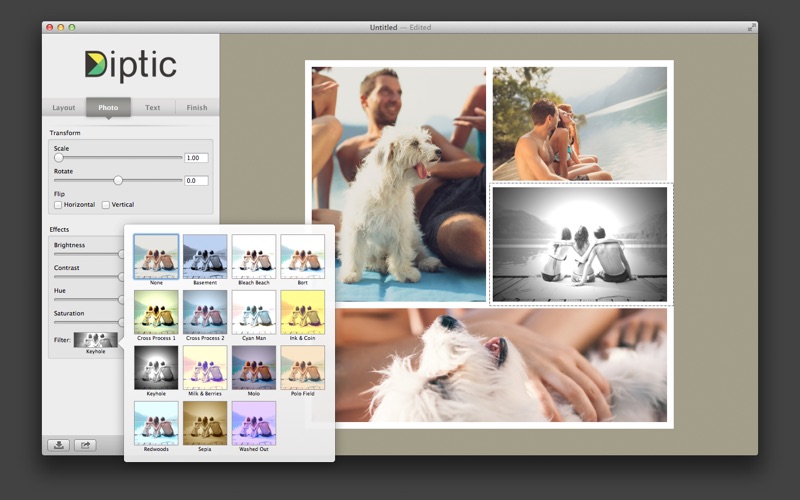 Diptic helps you create and share beautiful photo collages.

• Mac App Store Best of 2012 and 2013
• Apple's Editors' Choice
•Top 5 Photography App

IMPORT/EXPORT OPTIONS
• Import photos from iPhoto and Aperture. Use the Media section of the open dialog to browse your iPhoto and Aperture albums. Alternatively, you can drag and drop images from your favorite photo applications into the Diptic frame.
• Share Sheets: Share to Facebook, Twitter, Flickr and more. (10.8+).
• High resolution export (max of 3072x3072), with option to choose JPG or PNG.

LAYOUTS AND BORDERS
• Choose from 75 layouts (one to nine photos in each layout).
• Customize your layouts to better fit your pictures by sliding interior frame lines.
• Create rectangular Diptics (great for printing) with the Aspect Ratio Slider.
• Round the inner and outer borders, as well as modify thickness and color, and apply background textures.

IMAGE ADJUSTMENTS
• Choose from14 filters, as well as adjust brightness, contrast, hue and color saturation.
• Personalize your Diptics with text captions.

OTHER SWEET FEATURES
• Save Projects. The ".dptc" file format lets you save your Diptic projects and come back to them later.
• Drag and drop pictures into frames, and swap photos between frames
• Multi-Touch: The UI reacts to gestures with your Magic Mouse or Trackpad.
• Full screen. Because sometimes you just want things to be huge.