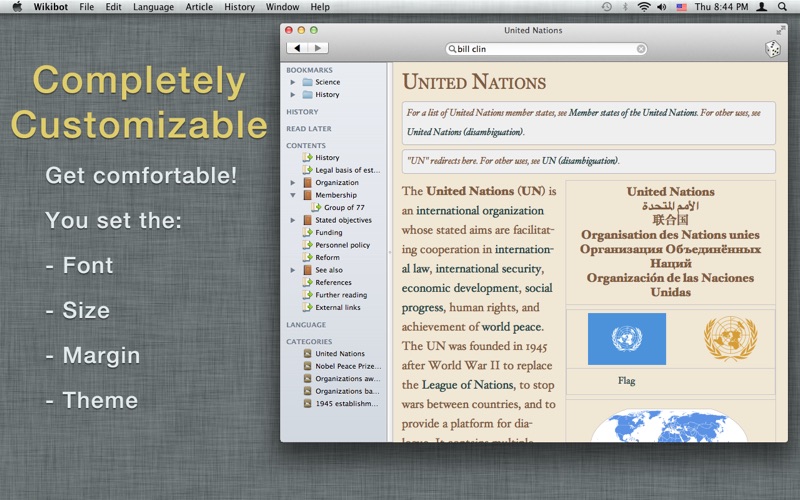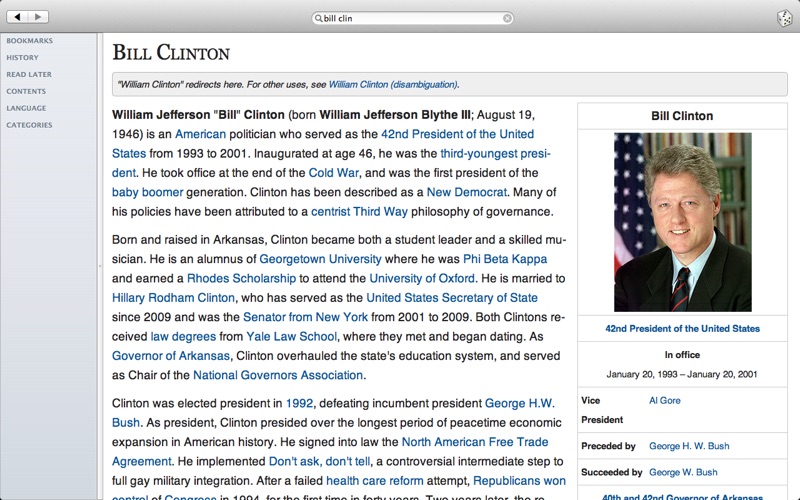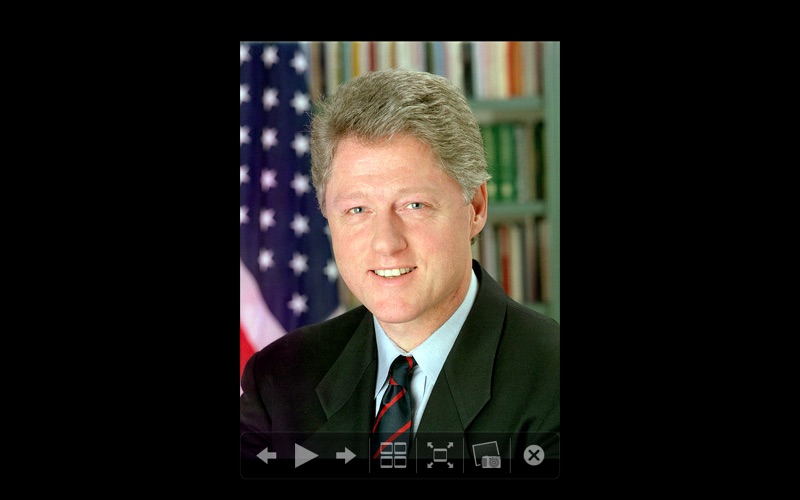 Offline version also available. Search for Wiki Offline.
Wikibot makes reading Wikipedia articles a joy on your Mac!

Whether you want to learn more about the places around you, entertain yourself with random articles, or research your favorite TV show, Wikibot has you covered! With a beautifully crafted interface, customizable display options, and killer features like tabbed browsing, language switching, a read-later queue and offline caching, you'll simply love it!

#1 Mac Reference App (US)

SYNC WITH YOUR iOS DEVICES
Using the new iCloud syncing features, you can access your read later queue, folders, bookmarks, and history across all of your devices! iOS App sold separately on the iTunes App Store.

PERSONALIZATION
The display is customizable to give you the best reading experience. You can easily change the font size, the font type, the margins, and the color scheme.

MULTI-LANGUAGE SUPPORT:
Easily search Wikipedia in 36 different languages. Effortlessly jump from the English version of an article to the German version, or any other combination!

BOOKMARKS AND FOLDERS
Save your favorite articles as bookmarks. Come back to them whenever you want, immediately!

READ-IT-LATER QUEUE
Sometimes you're reading an article and find great links that you want to read, but you don't to interrupt your current article. What do you do? Simply right click on the link to add it to your Read-It-Later queue. The article will be downloaded in the background for immediate access when you're ready.

IN-ARTICLE SEARCH
Use the normal keyboard shortcut (command + F) to search inside of articles!

OFFLINE CACHING
Articles and images are cached for offline use until you delete them. Enjoy Wikipedia while you're on the plane, on a train, or in a submarine!

FULLY OFFLINE VERSION
If you need offline access to the complete Wikipedia corpus on your iOS device or Mac, please search for "Wiki Offline" on the App Store, also by Avocado Hills. It is temporarily on sale to celebrate the Wikibot launch!

iOS VERSION:
Look for Wikibot on iPhone, iPad, and iPod Touch as well!

SUPPORT:
Don't be afraid to get in touch with us. User input is greatly appreciated -- in fact, most new features are suggested by users like yourself!