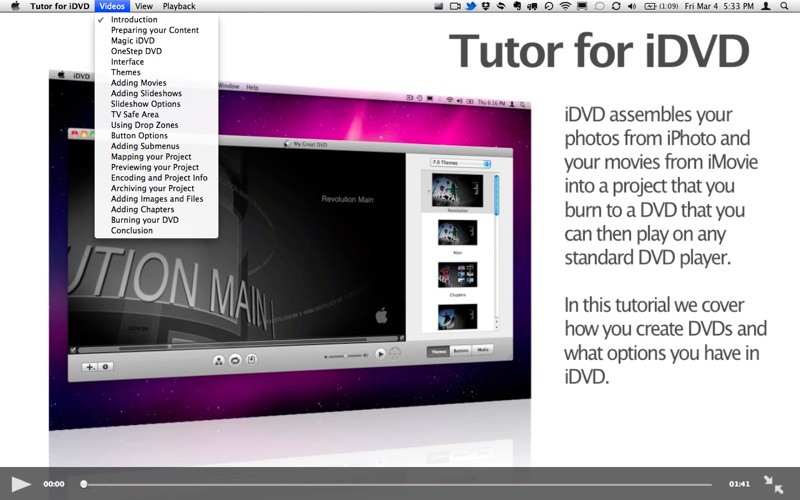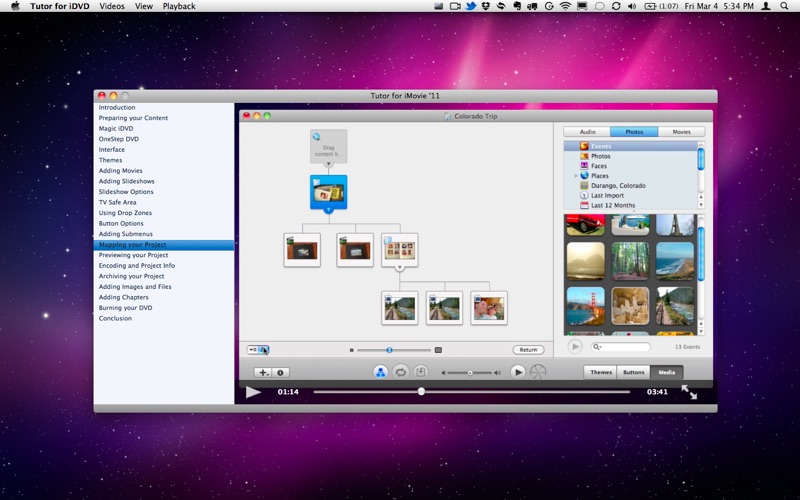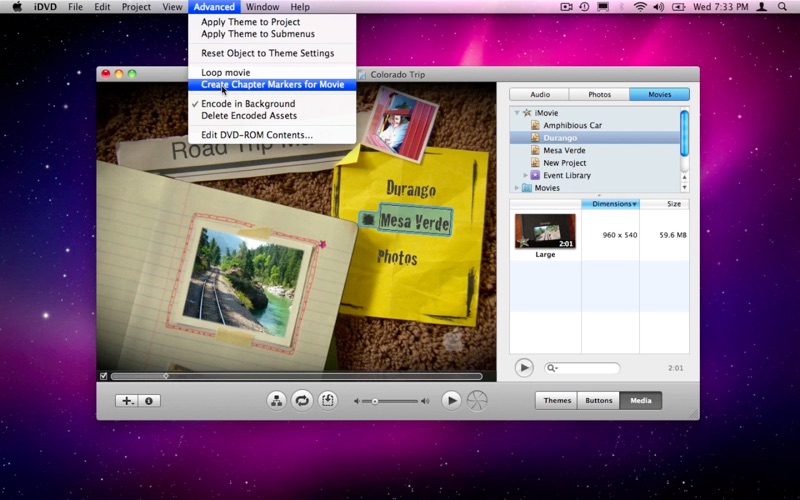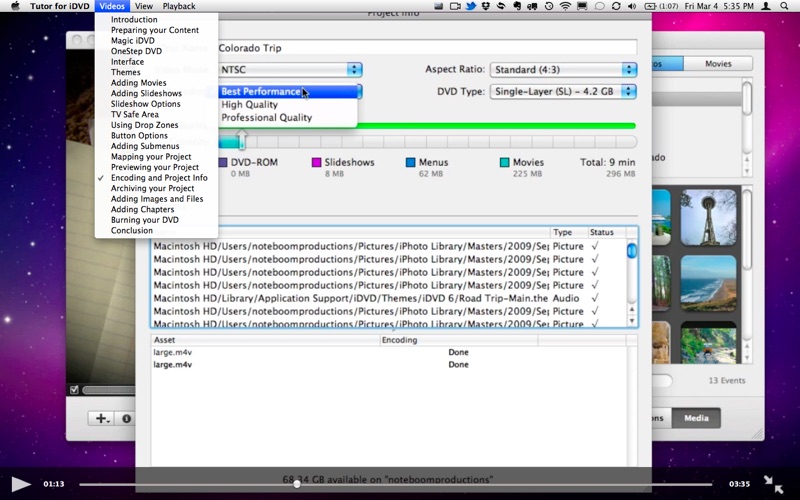 ***** "Makes working in iDVD so much more fun"
***** "Another MUST have app"
***** "Well worth the money."

NOTE: This is for iDVD which Apple discontinued.

With this video tutorial get the most out of iDVD! This Mac app includes 21 how-to videos on iDVD. The videos cover everything from the interface to importing your movies to using Magic iDVD (which makes making a DVD easy) to using drop zones to adding photos and files to adding chapters. Everything you need make a DVD of your favorite movies and photos.

Find out how to:
- Prepare your movies, photos, and audio.
- Use Magic iDVD to make your DVD.
- Get an overview of the interface.
- Change the theme.
- Change the transition and background music on slideshows.
- Make sure your whole photo is shown with the TV Safe Area.
- Use the Drop Zones.
- Change the look of your buttons.
- Add submenus to your DVD project.
- Map your project.
- Use the Preview feature.
- use encoding options.
- Archive your project.
- Add files to your DVD.
- Add chapters to your movies in iDVD and iMovie.
- do more with iDVD!

Videos included:
- Introduction
- Preparing your Content
- Magic iDVD
- OneStep DVD
- Interface
- Themes
- Adding Movies
- Adding Slideshows
- Slideshow Options
- TV Safe Area
- Using Drop Zones
- Button Options
- Adding Submenus
- Mapping your project
- Previewing your Project
- Encoding and Project Info
- Archiving your Project
- Adding Images and Files
- Adding Chapters
- Burning your DVD
- Conclusion

Get the most of out iDVD with this video tutorial!

We have been doing online video tutorials for over 5 years. Check out what people are saying about our video tutorials:

- "Few people can make useful tutorials. This person is one of the rare trainers who will keep your attention. The author breaks down iPhoto 11 into sensible chapters (videos) and presents them in plain English at a speed which is comfortable to manage. He knows his material!"

- "I read the review and decided to take a chance this was what I needed and WOW!! The last reviewer was so correct!! I needed help on my iPhoto for my iMac and I must say I am impressed and would buy from this developer again. It is nice to have on my iPad and use my computer to set up my iPhoto album."

- "If he keeps putting out more tutorials for programs I use, I will be sure to get these as well. I downloaded his Tutorial For iMovie for iPhone as well, which I also got a lot out of. "

- "Having this app is like having a virtual instructor. All the fundamental are covered."