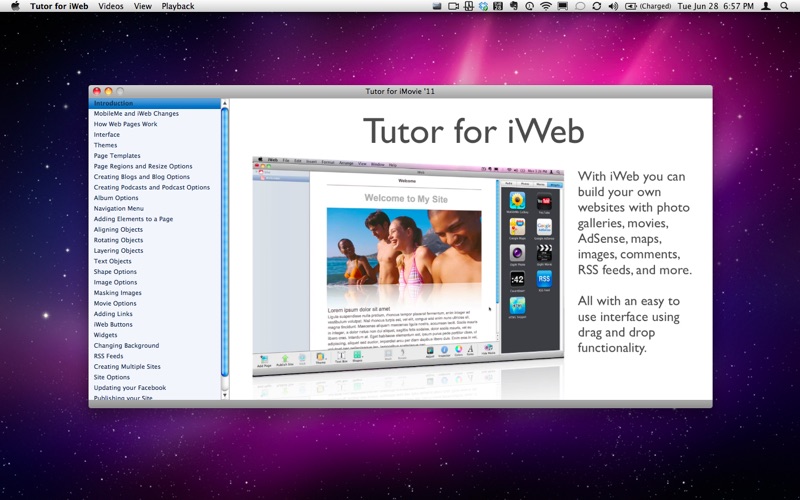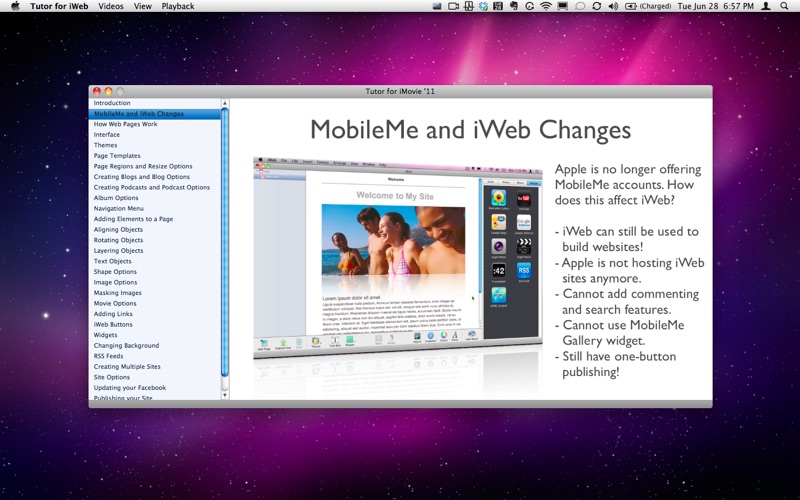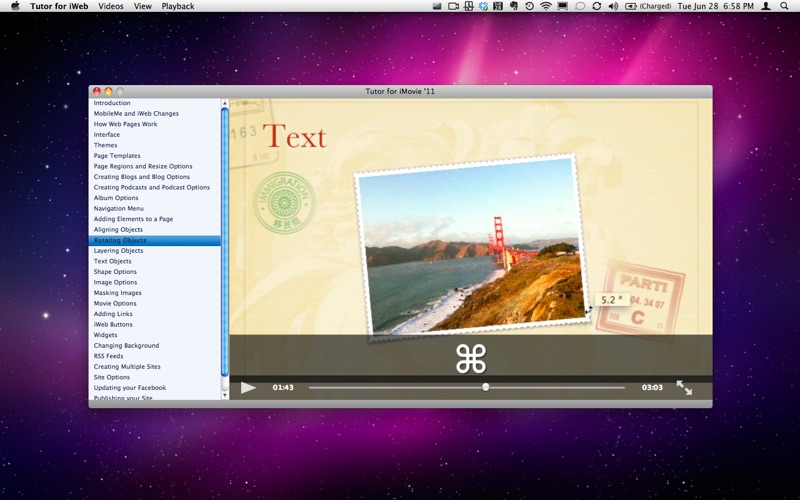 ***** "Great tutorial for beginners."
***** "Exactly what I was looking for."
***** "Almost as good as iWeb. Easy to understand."

Get the most out of iWeb and learn how you can build a great looking website with this video tutorial! This Mac app includes 30 how-to videos on iWeb. The videos cover everything from the interface to applying themes to creating blogs to creating picture albums to connecting with Facebook. Everything you need to create your own website with iWeb!

Find out how to:
- create a web page and find out what HTML is.
- apply themes to your website.
- create a blog.
- create a podcast and have iTunes find your podcast.
- how to add navigation to your site.
- mask images.
- add movies to your site.
- add YouTube videos.
- add Adsense so you can make money off your site.
- add RSS feeds.
- connect your site to Facebook.
- create multiple sites with iWeb.
- do more with iWeb!

Videos included:
- Introduction
- MobileMe and iWeb
- What is HTML
- Interface Overview
- Themes and Theme Options
- Templates
- Regions
- Creating a Blog
- Creating a Podcast
- Creating Picture Albums
- Navigation Menu
- Adding Elements on a Page
- Aligning Objects
- Rotating Objects
- Layering Objects
- Working with Text
- Working with Shapes
- Working with Images
- Masking Images
- Movie Options
- Adding Links
- Web Buttons
- Widgets
- Changing the Background
- RSS Feeds
- Creating Multiple Sites
- Site Options
- Updating your Facebook
- Publishing your site
- Conclusion

Everything you need to know to build a great site with iWeb!

We have been doing online video tutorials for over 5 years. Check out what people are saying about our video tutorials:

- "Few people can make useful tutorials. This person is one of the rare trainers who will keep your attention. The author breaks down iPhoto 11 into sensible chapters (videos) and presents them in plain English at a speed which is comfortable to manage. He knows his material!"

- "I read the review and decided to take a chance this was what I needed and WOW!! The last reviewer was so correct!! I needed help on my iPhoto for my iMac and I must say I am impressed and would buy from this developer again. It is nice to have on my iPad and use my computer to set up my iPhoto album."

- "If he keeps putting out more tutorials for programs I use, I will be sure to get these as well. I downloaded his Tutorial For iMovie for iPhone as well, which I also got a lot out of. "

- "Having this app is like having a virtual instructor. All the fundamental are covered."