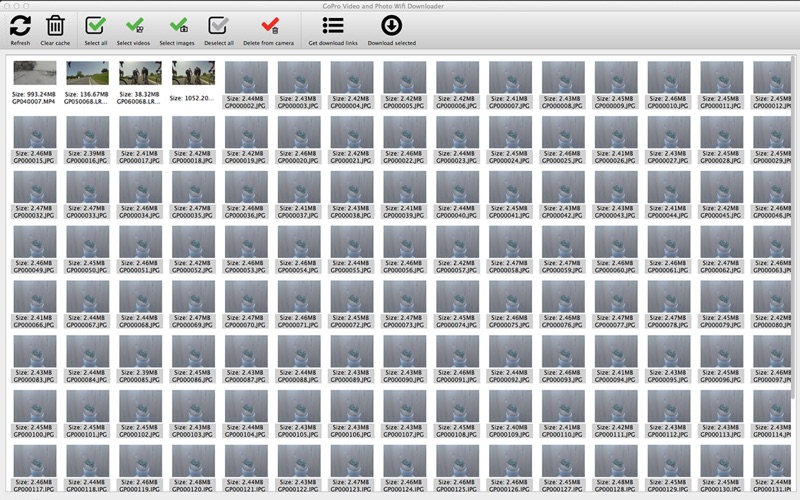 The Wifi Browser for GoPro Hero cameras allows you to download, stream, and delete files directly from a GoPro Hero camera over Wifi/WLAN.

Alternative app "Camera Suite": http://www.camerasuite.org/download

# Supported models:
- All Hero 4 models *NEW*
- All Hero 3 models including White/Silver/Black Edition and Hero 3+ models
- Hero 2 with Wifi BacPac


# Demo Video:
http://www.youtube.com/watch?v=ws9DNpfO5Fw


# Installation instructions
- Enable Wifi ("app" or "phone+tablet" mode) on your GoPro Hero.
- Connect your GoPro using Wifi to your Mac. The default GoPro Wifi password is "goprohero".
- Start the Wifi Browser app.

# Connection problems
If reloading content from the GoPro does not work properly then completely power off the GoPro by removing both the USB cable and the GoPro battery.


# Notes
The app displays both low resolution preview (*.LRV) and high resolution video files (*.MP4). Streaming of high resolution video files can be stuttering due to limited Wifi bandwidth of the GoPro Hero. To delete a video file you have to select the MP4 file. Deletion requests of LRV files are ignored by the GoPro.



+++ Disclaimer +++
This app is an alternative app for controlling GoPro Hero cameras. We are not affiliated with GoPro Inc. in any way.