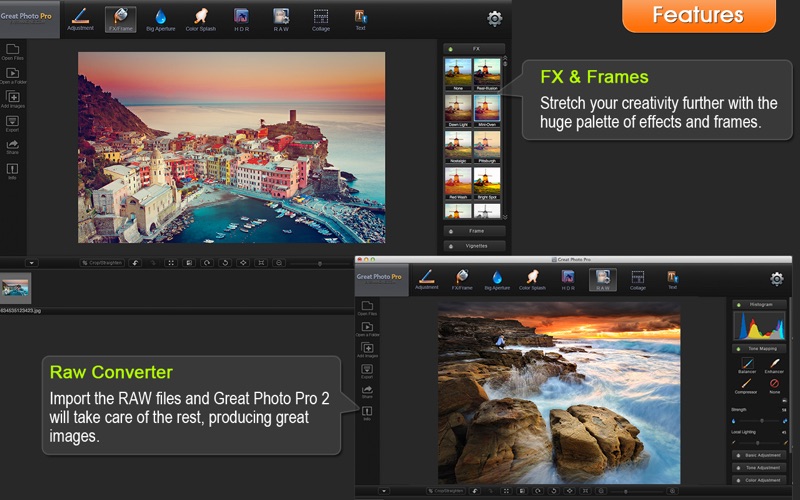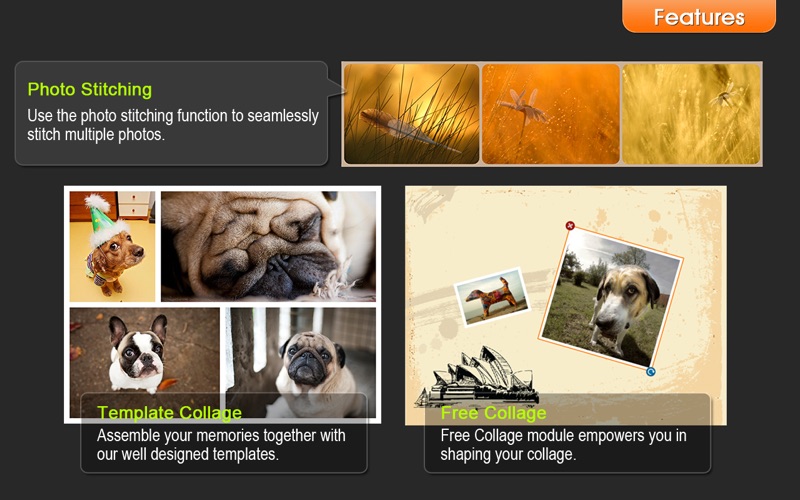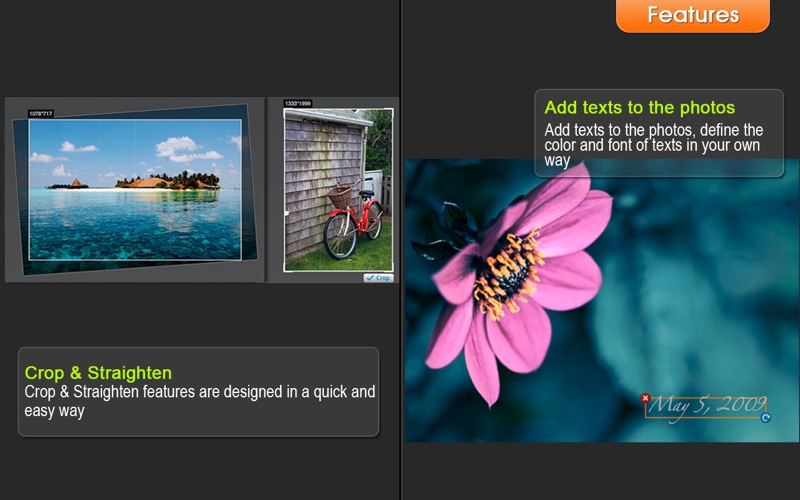 Great Photo Pro is the best all-in-one photo editing application!

Produce amazing results with the one application that gives you all the tools you need! With brilliant editing and Visual Effects, Realistic HDR, Big Aperture, 1-Click Enhance, RAW Converter, Color Splash, Collage, Text, and a comprehensive toolbox of editing tools (rotate, crop, straighten, re-size, plus many, many more), you will be amazed by how user-friendly and addictively fun your experience with Great Photo Pro will be. Wrapping it all up is the most addictive user experience you've ever had making great images.

Features:
• 1-Click Enhance
1-Click Enhance is perhaps one of our most powerful features.
"Picasa's 'I feel Lucky' and other image editing tools look shabby in comparison" (user review).
Instantly transform "dull," "bad," or "iffy" photos with our pixel-by-pixel enhancement that optimizes the brightness, contrast, saturation and exposure values. With a single click your original photo will be transformed into something you will definitely want to keep and share!

• Visual Effects & Frames
Stretch your creativity further with a huge palette of effects and frames that were designed with input from experienced graphic designers and photographers. Simply select a source image, and give free reign to your creativity and imagination.

• Realistic HDR
Everimaging's award-wining HDR Technology captures the real beauty you've seen, and rapidly restores every detail in both the shadows and the highlights of the scene. Using three or more bracketed photos (normal, over and under exposed), our HDR module systematically combines the images to produce a final photo with the best tone and light, and with top-notch speed and ease. The "anti-ghosting" and "alignment" features take your image to the next level, allowing for the best possible results with the least amount of effort.

• Raw Converter
RAW converter with tone mapping supports over 100 camera RAW formats. Import the RAW files and Great Photo Pro 2 will take care of the rest, producing great images.

• Big Aperture
Big Aperture module gives your images effects normally only seen with professional grade DSLR cameras. Unleash your creative inspiration with a mix of sharp and blurred areas, controlling both sharp focus and selective blurring. Further simplify the process with presets for portraits, natural scenes, architecture and macro photography.

• Color Splash
Color Splash makes you the master of color control! Choose any color you want to stand out in your image, while transforming the rest of the photo into black and white. Artistically use your mouse as a "brush" to paint while using adjustable parameters to further control the effects you want (size, radius, transparency).

• Collage
Enjoy the flexibility to arrange your pictures however you want with three different modes of collage: Template Collage, Photo Stitching and Free Collage

• Add Text
Personalize your photos by adding your own commentary, thoughts and messages for others to see, or just add notes to help you remember. Define the color and font of the text however you want.

• Sharing via Social Media
Our 1-Click Share feature lets you upload your edited photos to Facebook, Twitter, Flickr, and other social media platforms.