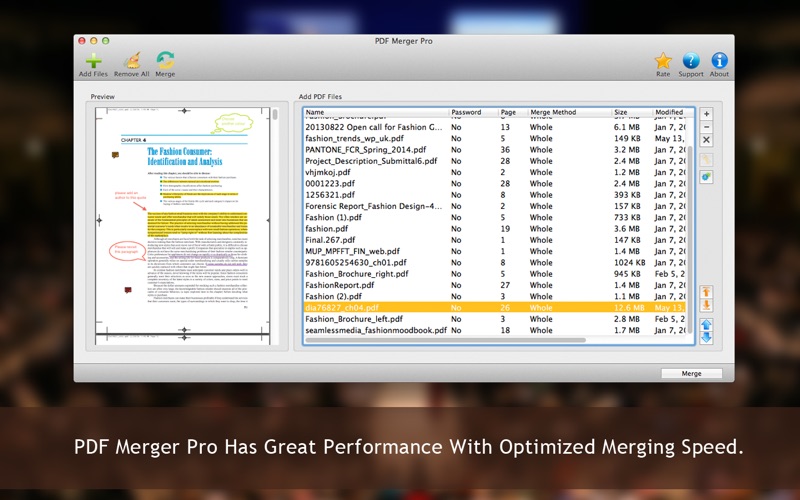 ◆◆◆ ON SALE FOR A LIMITED TIME: 50% OFF◆◆◆

DESCRIPTION:

PDF Merger Pro is a simple, lightning-fast app that lets you combine two or more image files or Acrobat PDF files into a single PDF document.

PDF Merger Pro provides special merge methods that allow you to combine documents and document parts in a number of different ways to make your work more effective.

WHY PDF MERGER PRO?

- Combine Small PDF Files

For archiving, batch printing or merging reports/ebooks/data sheets, you need an easy tool to combine small pdf files into one. PDF Merger Pro will even work with password-protected PDF files.

- Convert Scanned Images to PDF File

PDF Merger Pro supports popular image formats: TIFF (.tif), Multi-page TIFF, Windows bitmap (.bmp), GIF (.gif), JPEG (.jpg), Portable Network Graphics(.png), JPEG2000(.JP2, .J2K), Photo Shop Document(.psd), PCX, DCX, DIB, RLE, TGA, PBM, PGM, PPM, ICO, PCD, WMF, EMF, CUR.

- Append Pages to Existing Documents

Appending or inserting pages(PDF file or image file) to an existing PDF file with PDF Merger Pro is easy.

- Special Merge Methods

Use special merge methods to rearrange the pages of PDF files. You can mix, reverse and repeat pages of source documents. Find more actual examples of using the merge methods.

There are 5 merge methods: Whole, Part, Mix, Mix reverse, Repeat.

- Easy to Use

With the intuitive interface, the merging is as easy as 1-2-3:

Add files by clicking the "Add" button
Adjust the file order
Click "Merge" button.
Save Time


PDF Merger Pro's convenient features include 'drag and drop' for adding individual files to your documents, or even adding all files from a directory/folder with one click.

PDF Merger Pro has great performance with optimized merging speed.

PDF Merger Pro is a standalone program and it does NOT require Adobe Acrobat Pro, which costs hundreds of dollars.

We love to hear your feedback. Please remember, we cannot reply to your comments in the Mac App Store.
If you have a question, please contact us through our support mail. Thank you!

◆◆◆ Bug Fix & Feature Request ◆◆◆
If you have any problem, please email us at cokesoft@gmail.com
We will fix bugs and add features for you as soon as possible.