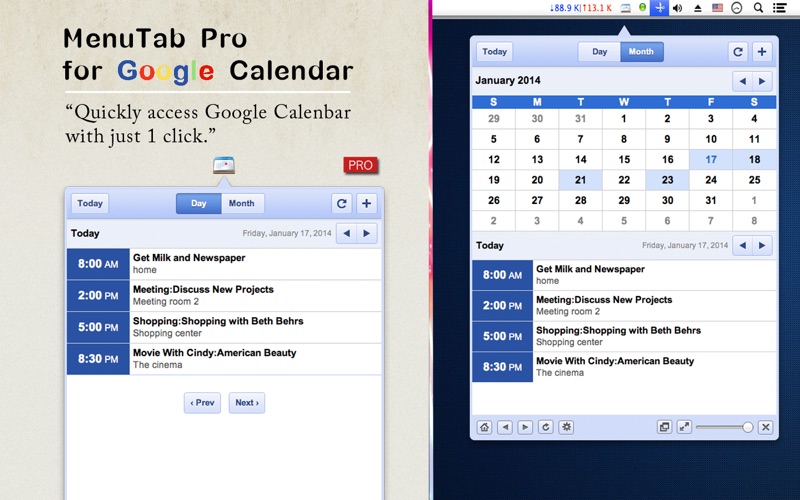 ◆◆◆ ON SALE FOR A LIMITED TIME: 50% OFF◆◆◆

MenuTab Pro for Google Calendar is the easiest way to access your schedule in your menubar.
Put a calendar on your menu bar will save your time and easy to Keep track of life's important events.

DESCRIPTION:
√ See today's date in the menu bar
√ Remind the festival
√ Advanced Agenda Management,Very easy to add event
√ Organize your schedule and share it with ysour family and friends
√ Never miss an event again with SMS and email reminders
√ Sync with your phone, and carry your schedule with you
√ Click on any day/week/month/event and manage your event
√ Advanced Preferences (opacity control, start at login,shortcut keys, etc..)
√ view as desktop mode

Organizing has never been this easy!!
All of your important events can be easily tracked at once!!

Never forget about a meeting!!
You will never miss out on any important event. Just add the event and let the advanced reminder system help you out.

It's Simple and Easy to use!!
Try MenuTab Pro for Google Calendar Today!!

TIPS:
We love to hear your feedback. Please remember, we cannot reply to your comments in the Mac App Store.
If you have a question, please contact us through our support mail. Thank you!

◆◆◆ Bug Fix & Feature Request ◆◆◆
If you have any problem, please email us at cokesoft@gmail.com
We will fix bugs and add features for you as soon as possible.