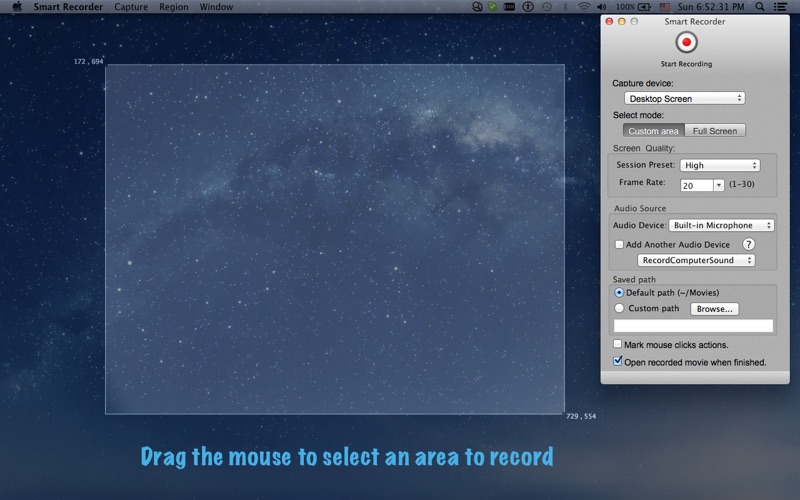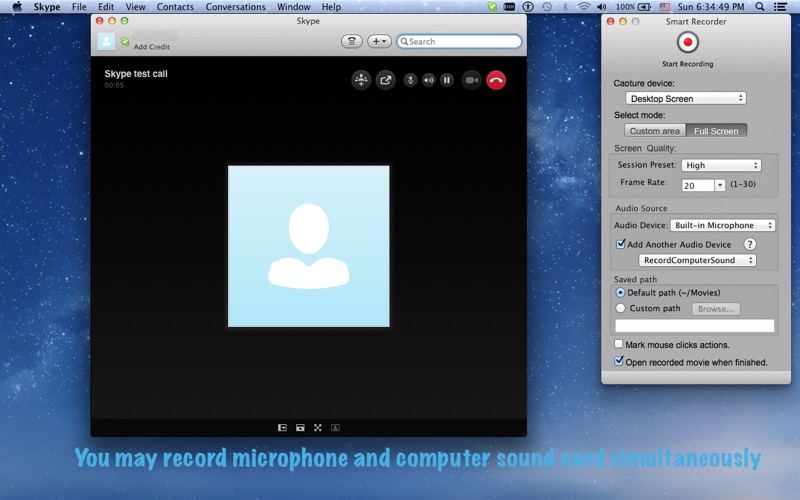 Smart Recorder is an easy-to-use video recording tool. With this tool you can record the screen as high quality videos with audio, set video quality and choose audio device by your request, record fullscreen, record selected screen region to video.
What you see is what you get. If you have any suggestion, tell me(billyonng@gmail.com). We will do it better. If you like it, please give me Ratings & Reviews.

Main Features:
Capture your videos at full screen or any size (you may select a range).
Record the audio with system build-in microphone, computer sound card or audio input device.
Record the second audio.
Record microphone and computer sound card simultaneously.
Set video quality by your request.
Making video at a very fast speed.
Capture Build-in iSight video.
Record screen no time limit.
Support hot-key, stop and pause very easily.
One Step to complete recording.
Preview the output movie.
A very professional tool for making your video tutorial.

The following is a few ways you can use this tool:

You can use it to create demonstration videos for any software program.
You can record the reproduced step of problem with your computer so you can show it to technical support people.
You can create video tutorials for school or college class
You can even use it to record new tricks and techniques you discover before you forget them.

Smart Recorder is a very practical tool if you create video tutorials or demo software. It provides all the elements needs to create professional-looking product demonstrations of software application, can capture games screen, PPT, application tutorial, iPhone simulator, your image's slideshow etc.

To enjoy all features please download it.

Note: If you have some problems, please tell me (send an email to billyonng@gmail.com) I will solve these issues as quickly as possible.