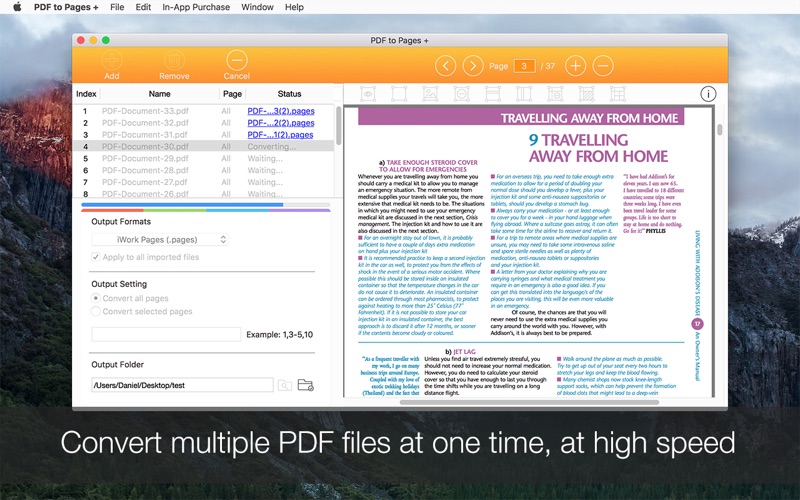 **Recently some developers used our app interface and screenshots to mislead users. Please beware of those low quality clones! This is original PDF to Pages converter by Lighten Software, We only release apps under the seller name 'Gerald Ni'**
Trouble editing PDF? Want to edit PDF content in Pages? With PDF to Pages +, you can quickly and easily convert your PDF file to editable pages file, and retain the original formatting, contents well in seconds. So you don't have to spend hours retyping or reformatting the file manually.

Key Features:
Get started quickly
It takes 3 steps to convert your PDF to Pages. Simply add PDF files, select a folder to store the output file, and click 'Convert' button, conversion will start instantly. You can also view PDF file with the built-in PDF reader, it's also a great function for quickly viewing a lot of PDF files.

Accurate output quality
It will lose original formatting if you manually copy content from PDF and paste them to pages. With PDF to Pages +, it can preserve original formatting, layouts as accurate as possible, locate everything in the right place.

Fast conversion save your time.
The ultrafast conversion speed and high conversion quality will no doubt enhance your productivity. Just import PDF files and click 'Convert', all the contents will be moved to your Pages file without spending hours retyping everything.

Advanced table conversion tool
Table is widely used in word processor, with the advanced table conversion tool, the app will detect table automatically during conversion. If auto detection is not correct, you can still mark table areas, add lines for columns, rows, merge or split cells before conversion. No matter how complex the table is, it can always output original table data in output pages file.

Other features:
Convert unlimited PDF files at one time, you can import thousands of files as you want;
Convert partial pages only, you can set pages before conversion, such as 1, 3-5, 12;
Compatible with Pages version 4 and the latest version 5, output file can be opened in both versions without problems.

Note: This version doesn't have OCR function, scanned or image-only PDF file will be converted as image instead of editable contents in output pages. If you need help or more info, please contact us via support@lightenpdf.com.