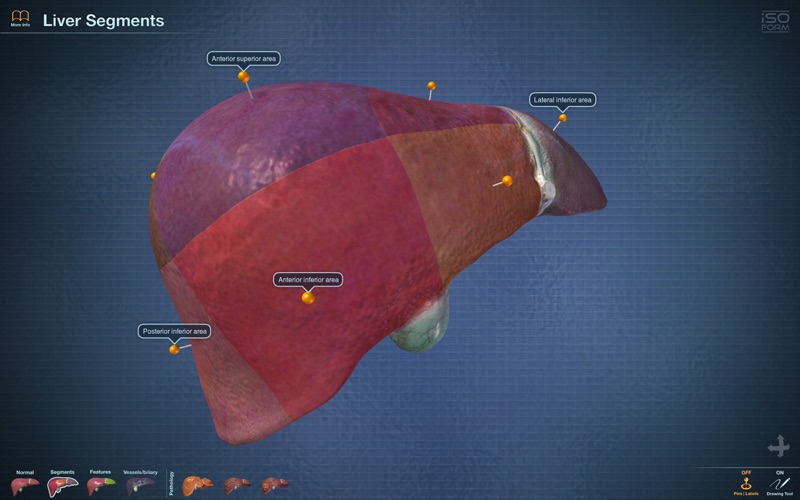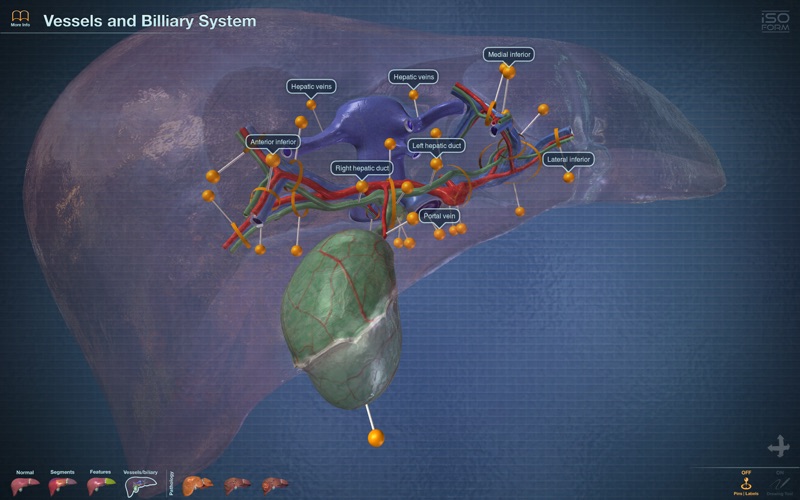 OVERVIEW
The Liver Viewer is a real-time 3D medical education and patient communication tool, featuring incredibly detailed anatomical models. It has been developed by a team of anatomists, certified medical illustrators, animators, and programmers using actual human CT imaging data, and the most accurate 3D modeling technology available.

The Liver Viewer is appropriate for use by secondary students, undergraduate and graduate students, and medical professionals.


FEATURES
User Interaction:
Interaction with the Liver Viewer utilizes true "real-time 3D". Unlike other anatomical apps and programs, there are no pre-rendered frames or animations. Therefore, the user can orient the 3D liver in any position and zoom in to any location to explore anatomical structures. The user can learn by using the extensively labeled sections, study by creating custom labeled pins, or teach by drawing directly on the liver in 3D.

Views:
By selecting the different views at the bottom of the interface the user can explore the liver using a series of optional views. Color-coded, didactic models help to show the specific locations and margins of the liver segments, while a semi-transparent view allows for the exploration of internal structures and features, including the major vessels and biliary tree. Finally, real-time 3Dmodels of three common pathologies can be viewed to illustrate the anatomical changes that occur to the organ.

Pins:
By turning on the colored labeling pins, the user can study the names and locations of the anatomical structures, including: the segments, ligaments of the liver and various landmarks of other visceral organ impressions. The pins and labels remain on screen and in the exact anatomical location during all real time 3D user interaction.

Pen tool:
Drawing with the multi-colored pen tool allows the user to draw on the surface of the 3D liver in order to highlight features, locations, and anatomical structures. Perfect for lectures, labs, or study groups.

Pathologies:
The Liver Viewer contains fully interactive real-time 3D models of three common hepatic pathologies: Hepatocellular Carcinoma (HCC), Cirrhosis, and Non-Alcoholic Steatohepatitis (NASH). Each of these detailed models includes a short description of the pathology shown.

About iSO-FORM
iSO-FORM is a team of award winning medical artists, programmers and innovators who believe that we are on the verge of a new era of learning, where the user doesn't just memorize facts, but discovers them through interaction and curiosity. We are passionate about science, technology and art so that we live and work at that intersection. If we've piqued your curiosity, check us out at: www.iso-form.com.