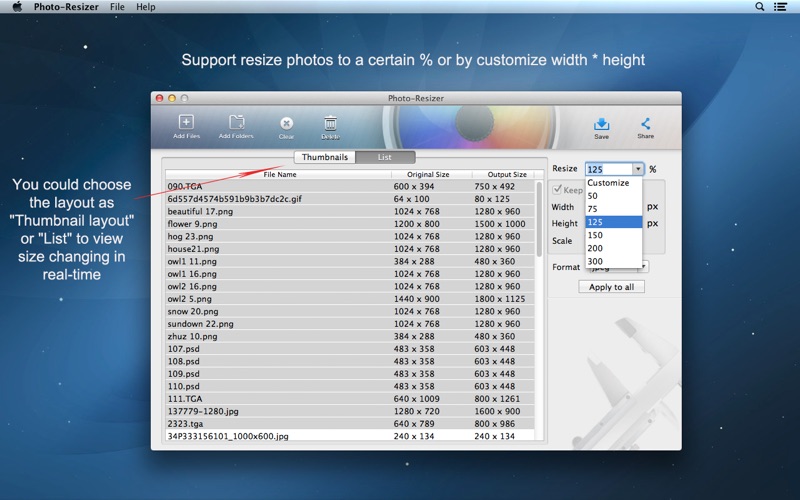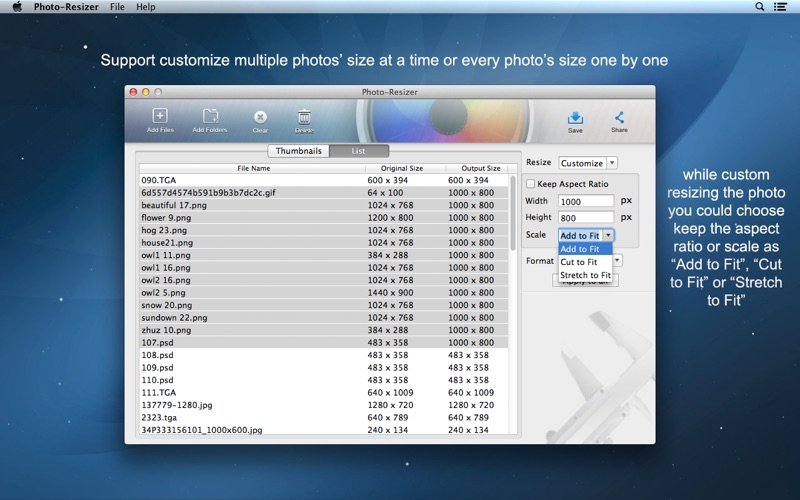 ***** Holiday Sale for a Limited Time!!! Regular price: $9.99 *****

iFunia Photo-Resizer for Mac is a simple photo resizing tool that allows users to resize, rename the photos in a quick and easy batch mode. With it, users can easily adjust the size of photo by percentage, by height, and by aspect, or can even enter the custom size that wanted. When finished resize the photos, users can either save to file folder or share directly to social networks.

With Photo-Resizer you can!
- Can I easily resize .jpg, .jpeg, .png, .bmp, .gif, .tiff, .ico, .icns, .tga, .psd?
- Can I resize 10,000's of photos at once?
- Can I resize a single photo or a batch of photos to any size that want?
- Can I drag to add a folder and have it magically find all the images within it?
- Can I resize photos by creating my own presets for certain photo sizes?
- Can I scale photos to a certain % or resize photos by width * height?
- Can I see the resized photos in real-time?
- Can I add photos directly from iPhoto or Photo Booth?
- Can I convert images to different image formats?
- Can I batch rename images at a time?
- Can all my original photos are left untouched?
- Can I share my photos to my Facebook or Twitter when finished the resizing just by one click?

The answer to these entire questions is Yes with Photo-Resizer's help!



Like iFunia on Facebook: http://www.facebook.com/iFunia
Follow iFunia at Twitter: https://twitter.com/iFunia
Share iFunia on Google+: https://plus.google.com/105722880100861622517/
To keep connected with us and get the latest giveaways, update news and new release.