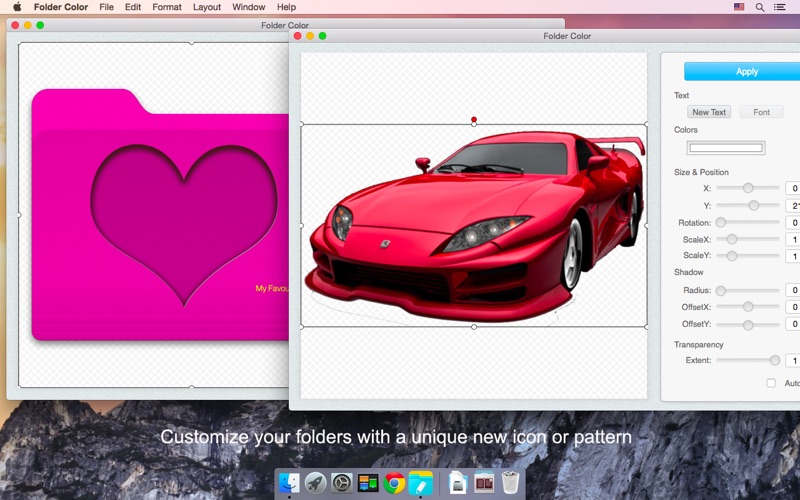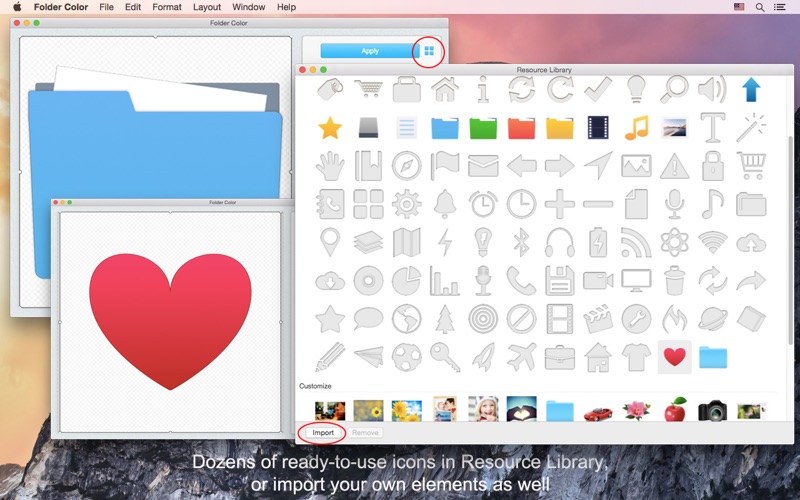 ***** New Version Launch Sale for a Limited Time!!! Original Price is $9.99! *****

Folder Color is a neat tool to customize your Mac OS X folder icon, create colorful and unique folder icons for your computer to classify and manage your folders highly efficient.

"Convenient color coding for visual thinkers. Everything Folder Color says it will do, it does well." - Macnn
"With Folder Color you will find your workflow and file storage much more efficient and stylish. 4/5" - MacSources
"Folder Color just makes it easy to create a customized folder appearance, drop in embedded and embossed logos and icons." - Mac360

Design customize folder icon:
• Create your own stunning folders with simplicity and ease.
• Change the folder icon color or add ready-to-use icon from resource library.
• Add any image/pattern of your choice to design a unique Folder icon.
• Design customized folder icons with transparent png image or loading an existing icon from file folder or application.
• Support inserting text for creating unique folder icon.
• Generate high-quality folder icon.
• Retina supported.
• Quickly apply the designed folder icon: Apply button, drag and drop the folder into Folder Color, or apply via File menu.
• Well compatible with Mac OS X El Capitan (10.11).

Edit the images and text for creating best look folder icon:
• Edit the added image based on a configurable style: size, position, shadow and transparency.
• Easy to edit the icon/pattern scale to allow a perfect fit according to your tastes.
• Edit the inserted text font, color, weight for best look icon.
• Auto crop the selected images or pattern.
• Auto center/quick align an icon or pattern.
• Easy to position the image/pattern and text to exactly where you want using the mouse and keyboard.
• Support Undo and Redo.

Resource Library:
• Dozens of ready-to-use icons supplied in Resource Library.
• Support importing your own elements into Resource Library.
• All images or icons added by users will auto-save in Resource Library category "Customize".
• Drag-n-drop the ready-to-use icons from Resource Library to use as an element or a unique icon directly.

Benefits of Folder Color:
• Manage and find files effectively - Put your file folders in order with customized icons.
• Well-organized your task - Prioritize your tasks or indicate process progress with 'priority' icons.
• Protect vital file against accidental erasure - Highlight important file folders which must not be removed.
• Personalize your workspace - Make your folders distinct from other folders, shared with other users on one PC or LAN.

More Reviews:
"Personalizzare le cartelle del Mac è un'operazione molto semplice e immediata con Folder Color." - Macitynet
"Folder Color, Bikin Sendiri Ikon Folder di OS X Kamu" - MakeMac
"Folder Color ist also eine recht mächtige Icon-App für eure Ordner im Finder." - APPSPEZIS
"Folder Color è un software molto interessante per chi ama personalizzare ogni aspetto del sistema." - AVRmagazine
"Folder Color is a fun and easy way to manage and brighten up your file folders." - TechPrevue


Like iFunia on Facebook: http://www.facebook.com/iFunia
Follow iFunia at Twitter: https://twitter.com/iFunia
Share iFunia on Google+: https://plus.google.com/+Ifuniastudio
To keep connected with us and get the latest giveaways, update news and new release.